FREE SHIPPING ON ORDERS OVER $500
Login
Log in if you have an account
Dont have an account? Register
Careers
PLEASE NOTE:  Gild & Co. is not hiring a personal assistant on Facebook or Instagram. All hiring is done directly at [email protected] Any other job postings are a scam. Please report their profiles as pretending to be someone.
--
Did you ever think you could have a career built around furniture and objects that inspire? Well this is a unique chance to do so! We are a fast-growing, ever evolving company based in beautiful Point Grey selling some of the most sought-after furniture and home decor in the world (yes really). It's real. It's authentic. Items that were built for beauty, style and comfort, which we believe is true luxury. The essence of what an object is made of shines through and is thoughtfully selected. If this interests you, we want to hear from you! Will train for the right candidate.
What makes this position special?
1) Work one-on-one with the company President, learning the ins and outs of running a retail business in the world of design, furniture and art.
2) Room for advancement to Manager roll and profit sharing.
3) Be part of a team to help build a successful company. This is the chance to really know what it's like to be an entrepreneur.
4) You want to work for a company with your shared core values of environmentalism, equality, and living with quality over quantity.
—
Please review our Job Description below before applying; Browse our online shop and then stop by with a resume and cover letter telling us why you want to be part of the Gild & Co team.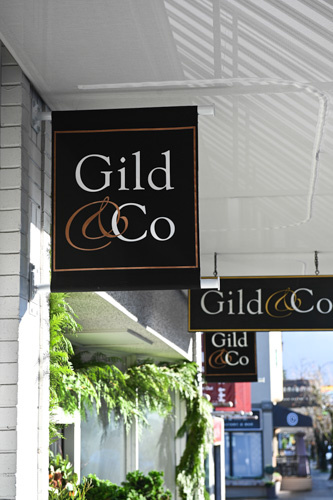 What does a Sales Associate do?
Customer experience is everything and as the public face of Gild & Co. the Sales Associate is responsible for dealing with any and all customer questions about the products we offer.
Our Sales Associates are experts in furniture, lighting, art and design. Creative thinking, building customer relationships and rapport is paramount.
Sales Associate Responsibilities:
Greeting customers, responding to questions, improving engagement with merchandise and providing outstanding customer service.
Operating and managing financial transactions.
Achieving established goals and daily duties.
Directing customers to merchandise within the store.
Increasing in store sales.
Superior product knowledge.
Maintaining an orderly appearance throughout the sales floor.
Introducing promotions and opportunities to customers.
Cross-selling products to increase purchase amounts.
Sales Associate Requirements:
An Associate's degree or high school diploma.
Retail sales experience in a luxury goods or furniture market.
A professional appearance.
Maintain a positive attitude and focus on customer satisfaction in a fast-paced environment.
The ability to perform basic math.
The ability to stand and walk for extended periods of time.
The ability to lift and carry 30 lbs.
Proficient use of computers and social media platforms like Instagram.
Will train for the right candidate
Part-time: 30-40 hours per week for the right candidate
Job Types: Full-time, Permanent
COVID-19 considerations: Employees must wear masks while customers are shopping and be fully vaccinated against Covid-19. Proof of vaccination is required.